Yaoi, also known as Boys Love (BL) or shonen-ai, is a media genre depicting romantic and homoerotic relationships between males. Yaoi blossomed in Japan in the '70s as a literary genre, originally consisting of derivative works developing from parodies of original anime and manga stories. However, it gradually transformed into an umbrella term for other forms of fiction, such as anime, movies, dramas, and fan-works, featuring homosexual relationships. 
As a genre, yaoi is both lusted by hordes of fans worldwide and widely criticized by others. Despite facing a lot of criticism and controversies, the genre is now a force to be reckoned with.
Origin and Development of Yaoi 
Yaoi first appeared as an offshoot of shojo manga – a genre primarily targeted at women and girls, generally featuring stories with a focus on emotions and romantic relationships. Initially, what differentiated yaoi from mainstream shojo stories were the protagonists of the stories, which in yaoi were males, and the lack of an emotional dimension and plot development, as yaoi mostly centered around the sexual act between characters.
Yaoi started as fanfiction made of explicit homoerotic stories with ill-developed plots. At the time, Yaoi was the impetus for a lot of controversy within the male-dominated manga industry due to its taboo themes, such as rape and incest, and its authors, which were primarily female mangaka.
By the late 90s and early 2000s, yaoi had developed from a Japanese subculture to a phenomenon that had made a name for itself, both in Japan and abroad. 
The terms Boys Love (BL) and shounen-ai eventually emerged within the community to differentiate between softer and more explicit/sex-heavy stories. Today, the term BL/Boys Love covers both explicit and non-explicit media content featuring romantic and sexual relationships between two (or more) male characters.   
Yaoi protagonists usually fall into two specific descriptions – seme and uke. Curiously, despite the homosexual nature of yaoi materials, the characters in the genre often do not self-identify as gay. The characters' sexuality is usually undefined, and their love and attraction derive from an interest in a particular person rather than their sexual orientation.
Check out our Yaoi Start Up Pack with hand picked products for you.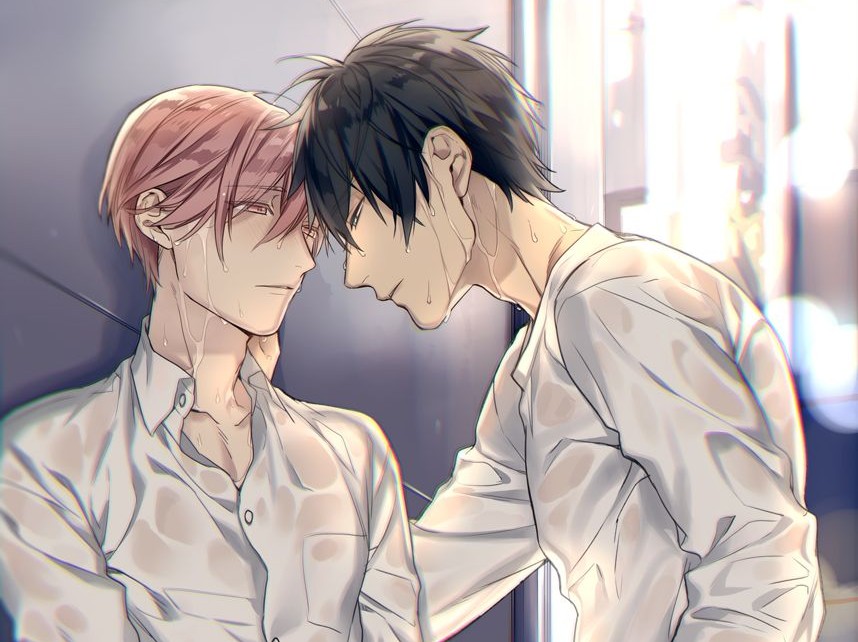 Difference Between Yaoi/Shonan-ai/BL
Although often used interchangeably, yaoi, BL, and shonen-ai have slightly different meanings and connotations in and outside Japan. This is due to the historical and cultural contexts in which yaoi emerged and the gradual development of the genre and the industry over the past fifty years. 
Yaoi is an acronym for no climax (YAma nashi), no punchline (Oshi nashi), and no meaning (Imi nashi). It refers to the genre of manga focused on male homosexual romance and pornography, mostly created by women for women. Yaoi closely connects to sexually explicit material. traditionally, refers to stories featuring only sex with no extensive plot.  As a rule, female characters are absent from yaoi, leaving only the juicy and meaty bits of male-male relationships. These relationships are usually sexual in nature and with clear set roles and aesthetics, classified as 'seme' or 'attacker' and 'uke' or 'receiver'(see definitions below). 
Shounen-ai, literally translated from Japanese as 'boy love', is another term used to refer to yaoi material, but contrarily to the latter, it is story-centered, focusing more on the plot rather than on sex. Even though shounen-ai has no explicit sexual action, it can hint at sex having happened. There is no portrayal of intimacy beyond kissing and undressing. 
Boys Love or BL is a relatively recent concept. Like yaoi, it describes the genre of fictional media depicting romantic love and sexual attraction between men. In Japan, the term 'BL' covers the entire genre, including both sexual and non-sexual material in manga and other forms of media. Whereas yaoi privileges sex over romance and plot development, BL delves deeper into the romantic side of the relationship. In BL, sex scenes serve to intensify and seal the leads' romantic bond rather than being the essence of the story.
The Fujoshi/Fudanshi Fandom
Fujoshi (腐女子) is the term used to refer to the female yaoi fandom that emerged in the early 2000s among manga and anime fans in the online community. Fujoshi can be loosely translated as 'rotten girl'. The word 'rotten' here is self-deprecating and symbolizes the immoral or inappropriateness of the genre in the mainstream culture of women who take pleasure in consuming media depicting sexual and romantic relationships between men. 
Despite most fujoshi being heterosexual young women, the fandom is diverse and includes people of all genders, ages, and sexualities. Fudanshi, meaning 'rotten boy', refers to male fans.
Yaoi Sub-genres 
Bara
Although bara is not a sub-genre of yaoi, per se, it is often confused as such because both genres share the depiction of male-male relationships. The main difference between yaoi and bara is that, generally, gay and bisexual male artists create bara, as opposed to yaoi female creators. Bara also primarily caters to a male audience and the stories more closely reflect the reality of gay relationships. Bara doesn't obey the seme/uke dynamic that is characteristic of yaoi. Rather, the characters are more likely to be hairy, bulky, and muscular and follow the stereotypical rugged masculine character.
Gachi muchi
The subgenre gachi muchi can be simply described as the intersection between bara and yaoi. This genre is still marketed primarily to women, but the materials are more likely to be written by gay male artists and authors, and the visuals and style more closely reflect the strong masculine body type, rather than the elegant and graceful style that distinguishes yaoi.
Shotacon 
Japanese slang word, sometimes shortened to shota, describing an attraction or fetish to young boys or an individual with such an attraction. In manga and anime, it stands for artwork and material depicting prepubescent or pubescent boys, generally under the age of 13, in suggested or explicit sexual scenes. Contrary to yaoi/BL which has a mostly female audience, shota attracts male and female readers equally.
Doujinshi 
Refers to self-published or fan-created work, often portraying characters in erotic contexts.
Criticism of Yaoi Genre
Yaoi often faces criticism for its unrealistic and sometimes toxic relationships, supported by the stereotypical and homophobic portrayals of characters.  
Unrealistic and toxic because forced sex is often used as a catalyst for romance and a plot device to heighten the drama and the erotic tension between the coupling. Stereotypical because the characters are normally codified as 'top' and 'bottom' roles, fitting the heterosexist dynamic of active/male and passive/female positions. Finally, it is viewed as homophobic because the genre not only fails to address gay issues, but when a story addresses the topic of homophobia, it normally serves the purpose of accentuating the drama between the coupling or the purity and integrity of their love with narratives along the lines of "I'm not gay, I only love you." 
Nonetheless, other critics highlight the transformative potential of yaoi as a genre that challenges sexism and heteronormativity through the depiction of transgressive male characters. For instance, through the characterization of cross-dressing characters and bishōnen, i.e. boys or young men with pretty androgynous features, masculinity is challenged and gender is blurred. Moreover, having male characters as protagonists avoids the reproduction of female stereotypes and misogyny. It provides women and girls a place to safely explore different sexual identities and fantasies away from the normative shackles of society.  
Yaoi vocabulary 
Riba (seke)
Refers to characters that are versatile, with mixed traits of semes and uke. And that be both submissive and dominant in the relationship.
Seme
The term seme was borrowed from martial arts to refer to the 'attacker' in a Yaoi/BL relationship. It also refers to the 'top' or the one that penetrates the 'bottom' during sex. The seme usually portrays the character with the most masculine features. As well as the one with the more dominant personality.
Tsundere
A character that initially shows off a moody and harsh personality and sometimes violent tendencies. Along the story, gradually shows a sweet and gentle side. Contrary to a yandere, the character development of a tsundere involves a transition from cold and hostile to warm and friendly over time. 
Uke
The uke is essentially the binary opposition of the seme. It refers to the character with the most docile and submissive personality and the 'bottom' in the relationship. Physically, he is also more graceful and feminine. 
There has been an increasing emergence of yaoi and BL with characters showcasing more fluid identities that transcend the strict seme/uke binary. However, this dynamic still dominates the genre.
Yandere
Japanese term to describe a character development process. It involves a possessive and obsessive personality that will do anything to be with their crush or love interest. A yandere normally starts out as a sweet and innocent character. However, he gradually becomes a psycho stalker that resorts to all sorts of extreme means to get what they want. 
Sources
Galbraith, Patrick W. (2013). The Otaku Encyclopedia: An Insider's Guide to the Subculture of Cool Japan. Kodansha: New York and South Korea.
McHarry M. (2007) Identity Unmoored: Yaoi in the West. In Queer Popular Culture, Peele T. (eds). Palgrave Macmillan: New York.
Niskanen, Eija (Ed.) (2010). Imaginary Japan: Japanese Fantasy in Contemporary Popular Culture.  International Institute for Popular Culture: Turku.
Thorn, Rachel (2004). "Girls And Women Getting Out Of Hand: The Pleasure And Politics Of Japan's Amateur Comics Community." pp. 169–186, In Fanning the Flames: Fans and Consumer Culture in Contemporary Japan, William W. Kelly (ed.). State University of New York Press. 
Welker, James et al. (2015). Boys Love Manga and Beyond: History, Culture, and Community in Japan. University Press of Mississippi.
Saitō Tamaki (2007) "Otaku Sexuality," p. 236,  In Robot Ghosts and Wired Dreams, Tatsumi, T. et al. (eds.). University of Minnesota Press.